| | |
| --- | --- |
| | |
| | |

Ashley it has Been nine Years and We Miss You So Much!
We love YOU!!!!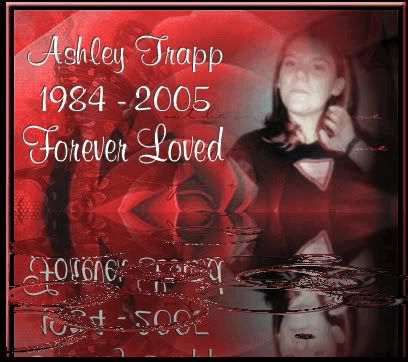 Made by Margaret Buonpane-(Angel Nellie Buonpane) Thank you Margaret!



A MOTHER'S LOVE!
I have watched you grow up over the years,
And shared in the learning,
the joys and the tears.
I've seen you become the person
who you are today,
A child of mine,
and so very special to me,
in every way.

Through the years
you have brought my heart many smiles,
And even through any hard times,
you made it all worthwhile.
I will always be here for you,
always right by your side,
Whether it be just to listen to you,
or to be your guide.

I can't lead your life for you,
and protect you from all harms,
But my love will be embracing you,
as if you were in my arms.
Above all else,
your happiness is so very important to me,
And when I see your smiling face,
it fills my heart so lovingly.

I gave you the gift of life,
and in return I've received love,
You are a true blessing
given to me from the Lord above.
For the love between a mother and a child
is like no other,
And I am so proud that I am able to say,
I am YOUR mother.

(©Pamela Hall,~Angel of the Heart~)






Ashley was a gift given to us by our Heavenly Father November 6, 1984. The Lord came back for her August 30, 2005 and took Ashley to his beautiful mansion in the sky. All Ash wanted to do was "jam" with Jesus. We can't wait to see you again babygirl, we love you.



Annabelle Leann Childress

Ashley, here is a picture of your niece who was born on St. Patricks Day! However, you already knew that, didn't you. I have a little story to tell that confirms my belief in miracles and that there is no such thing as a coincidence. San Antonio Hospital sent Anabelle home in one of their T-shirts. It would appear that it isn't that big of a deal, but in all actuality it is a BIG Deal. They sell these little shirts in the gift store so that the child and parents can have a momento of their birth. The T-shirt Annabelle is wearing was meant for babies born in Nov 06, meaning 2006. But, when Brandy & I saw the T-shirt they gave Annabelle to wear home (obviously they couldn't sell these 2006 shirts in 2007) the first thought that came to our head was you Ashley! You were born on Nov 6th. We know you were with us when the baby came into this world and it gave us a great deal of comfort. Thank you and thank you Father!




Hi Ashley! I just had to put a picture on your site of your favorite nephew. As you can see we are taking horse back riding lessons and Lil D just loves it. Please watch over us as horses can have a mind of their own. We love and miss you so much.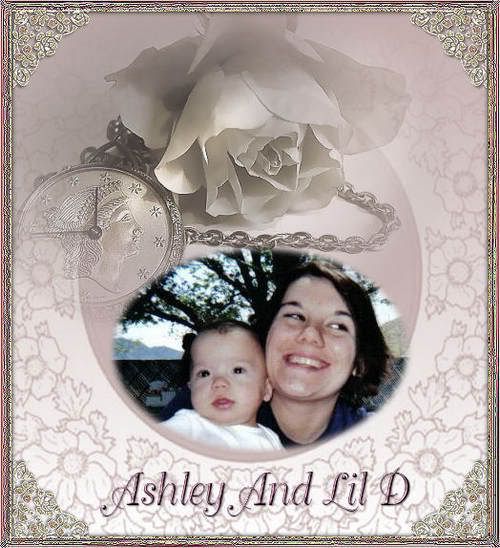 Your Little Guy!




.




Letter From Heaven

To my dearest family, some things I'd like to say.
But first of all, to let you know, that I arrived okay.
I'm writing this from heaven. Here I dwell with God above.
Here, there's no more tears of sadness;
Here is just eternal love.

Please do not be unhappy just because I'm out of sight.
Remember that I am with you every morning, noon and night.
That day I had to leave you when my life on earth was through.
God picked me up and hugged me and He said, "I welcome you.

It's good to have you back again,
you were missed while you were gone.
As for your dearest family, They'll be here later on.
I need you here badly, you're part of my plan.
There's so much that we have to do, to help our mortal man,"

God gave me a list of things, that he wished for me to do.
And foremost on the list, was to watch and care for you.
And when you lie in bed at night the day's chores put to flight.
God and I are closest to you....in the middle of the night.

When you think of my life on earth, and all those loving years.
Because you are only human, they are bound to bring you tears.
But do not be afraid to cry: it does relieve the pain.
Remember there would be no flowers, unless there was some rain.

I wish that I could tell you all that God has planned.
If I were to tell you, you wouldn't understand.
But one thing is for certain, though my life on earth is over.
I'm closer to you now, than I ever was before.

There are many rocky roads ahead of you and many hills to climb;
But together we can do it by taking one day at a time.
It was always my philosophy and I'd like it for you too;
That as you give unto the world, the world will give to you.

If you can help somebody who's in sorrow and pain;
Then you can say to God at night......"My day was not in vain."
And now I am contented...that my life was worthwhile.
Knowing as I passed along the way I made somebody smile.

So if you meet somebody who is sad and feeling low;
Just lend a hand to pick him up, as on your way you go.
When you're walking down the street
and you've got me on your mind;
I'm walking in your footsteps only half a step behind.

And when it's time for you to go....from that body to be free.
Remember you're not going.....you're coming here to me.

Ruth Ann Mahaffey
~Author~ of "Letter from Heaven" Copyright 1999-2000


I'm Free

Don't grieve for me, for now I'm free
I'm following the path God laid for me.
I took His hand when I heard him call;
I turned my back and left it all.
I could not stay another day,
To laugh, to love, to work or play.
Tasks left undone must stay that way;
I found that place at the close of day.
If my parting has left a void,
Then fill it with remembered joy.
A friendship shared, a laugh, a kiss;
Ah yes, these things, I too will miss.
Be not burdened with times of sorrow
I wish you the sunshine of tomorrow.
My life's been full, I savored much;
Good friends, good times, a loved one's touch
Perhaps my time seems all too brief;
Don't lengthen it now with undue grief.
Lift up your heart and share with me,
God wanted me now, he set me free.




Okay Ash I guess it is time to fill you in on your favorite nephew. You know how you couldn't wait until he said your name? Will he says it now. I was kind of bummed at first because I was like "why is Brandy teaching him to say your name?" So, I confronted Brandy. She said, "Mom, I am not teaching him that, he just started saying it." Hmmm, I thought to myself but I let it go. Then I noticed everytime he was saying your name it seemed to have something to do with remote control cars and trucks. He has a lot now, thanks to you Auntie A. He remembered it was you who taught him about those runaway vehicles. You laughed so hard we thought you were going insane. So, I figure when Dan & I brought him up to see you at Sugarpine he must associate that incident with you. Well why wouldn't he. He loves you very much and that was a special time for him. Thank God we took Lil guy to see you and praise God he laid it on our hearts to do so. It wasn't even a month later when you left us. We love you babygirl. So heres the picture of you and D playing with the truck.


When you found out you were going to be an Aunt you started making some pretty awesome plans. You said, "I'm going to be the best Aunt anybody ever had. I'm going to be the Aunt who always has gum and candy in her purse." You pretty much did just that! Remember the time you went to Mexico and bought a spiderman cape for Lil D because he likes spiderman? Well, he was only one at the time and it will be at least a couple more years before he can wear it. At the time Brandy and I were like, Ash do you know how long it will be before he can wear this? But, now we know the Lord laid it on your heart to do so because he knew "you" wouldn't be here later! Or, one of my personal favorites, is the time you gave Lil D a snack right before dinner. I busted you as I came around the corner into the kitchen. You two were nonchalantly sitting on the kitchen floor eating a wafer cookie. You thought nobody would notice, you silly girl. Thank God we found the humor in it and snapped a very precious beautiful moment of the two of you....and here it is





Your Commencement was May 20, 2006

Hope International University
AKA: Pacific Christian College

Brandy, Little Guy, and I went. It was so hot in the Gym, but we
just had to be there, because we know you were in spirit! Dan
wanted to go, but you know all about the work thing! Plus
we had to be there for the girls, you know.
Lily said they pimped out your tree, sorry but we had just
seen it for your run and didn't check on it because
it was so hot and little guy was getting tired.
However, your tree wasn't the only thing pimped out,
so was your nephew. Brandy had the cutest little
suit on him. Short sleaved blue dress shirt,
vest with matching suspenders.
He was so cute, and thought he was the doo-doo too!
A lot of grown men, and I mean a lot, would stop us and tell
little guy how cute his suit was and that they wished they
could have got away with what he was wearing (they
were really hot in their full suits). Then they would
shake his little hand; I know you can see the shy
but proud expression on his face. So, I'm going to
post your commencement program, and then what you are
waiting to see. Pictures of little guy in his suit with
the girls! We love you.


AKA: Pacific Christian College



Hi Ashley! Well it came and went, Your Walk that is, April 29th, 2006. It was a beautiful day, but at times, it was so sad to think that we were walking for you, instead of you walking with us. OneLegacy did a wonderful job making T-Shirts & Buttons, and they had some very generous sponsors that made the event even more special. A lot of your friends came and supported you. I wish I would have gotten a Big Group Picture, you know how lame I can be sometimes. I'm sorry, but maybe someone may have a picture we can put up later. I will post some pictures that I do have for you though. We love You So Much! As you can see, we managed to get a small family shot. Dan pushed Aunt Diane in the wheel chair and she was so proud of her job---holding your sign (the orange one you can hardly see in this pic). It read "Ashley Trapp's Walk of Love." She never put it down, not once. As you can see Aunt Sandie was there as well as Aunt Donna and Missy. Do you also notice your cousin Nikki, they didn't tell me she was coming so it was quite a surprise. However, as of May 21st I am moving all but the family pic to your photo album, the other pics are just putting your site in constant maintance.



Ashley it has been seven months now that you have left us. The journey we are on we were not prepared for. We didn't have enough time with you, yet we know we are blessed that God let us have you for twenty years. A lot has happened the last seven months but most of all, we keep missing you. When this site was created in your memory we had many people to thank for helping us through this. We wrote about your life so that they could get a glimpse of who you are and what you stand for. However, its time to move on to the next phase of this journey. We have moved the contents of your "About You" page to the end of your Legacy page. It is now time to share other aspects of your wonderful life




We Believe in Miracles

In event that appears inexplicable by the laws of nature and so is held to be supernatural in origin or an act of God: "Miracles are spontaneous, they cannot be summoned, but come of themselves."

On Thursday March 30th, 2006 we received an unexpected blessed miracle. It went kind of like this: We met a young man, his name is Ben. Ben graduated from USC in accounting. While attending classes on campus, Ben was ministered to by a pastor that was at the University. Ben listened to his testimony and immediately accepted Jesus Christ as his Lord and Savior. Ben was not exposed to Christianity while growing up so this was totaly new to him; after he graduated he decided to be a messenger for Jesus and went back to school to take classes in theology and ministry. He is on a mission. His mission is to become a missionary on the USC campus to spread and teach the gospel. By the Grace of God, the word is being heard, received, and accepted by many USC students. They are thirsty and hungry for the gospel and Ben is a blessing that is providing what the students need. Ben came over to our house on Wednesday 29th and we discussed his mission. He reminds me so much of you Ashley, he is "On Fire for God." I can't wait to see what wonderful things he accomplishes! Ben left the house Wednesday but had to come back Thursday to pick something up. Ashley, it was your eighth month anniversary in Heaven. After Ben left the house Thursday five minutes later he called me on his cell phone. He said, "Sue go outside and look up at the sky." I thought it was kind of strange but I went outside and looked Up! There it was, as Big as could be, the Letter A. I ran in the house to get the camera all the while telling Ben how much I loved him. He just kept laughing, he knew it was from you and so did I. Thank you Ashley, and Thank you Lord Jesus! I took this as a wonderful sign that you approved of us helping Ben and to let Ben know that what he was doing was just as wonderful. For all of you who believe in miracles take a look at the "A" below: